Veterinary diagnostic ultrasound is non-invasive diagnostic imaging technology that we offer your pets. When necessary, our veterinarian will suggest that your pet have an ultrasound examination done for diagnostic purposes. For the procedure, a portion of your pet's fur will be shaved and an ultrasonic gel will be applied on the surface of the skin to enhance ultrasound transmission and reception of the echoes. Your pet does not have to be sedated for this procedure, unless your pet is very anxious, scared or aggressive.
Ultrasound is a painless, non invasive method used to evaluate the appearance of the internal organs. In addition to seeing organs, it can see moving objects such as the heart beating, valves moving, blood flowing and intestinal movement. Some common applications of this medical imaging device are abnormalities in vital organs (kidneys, spleen, liver) and masses (for example tumours) and the conditions of the fetus(es) - heartbeat, position and fetal growth.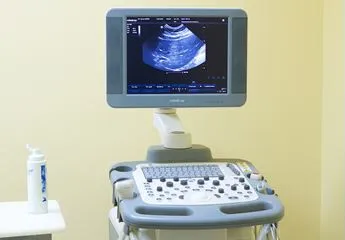 Abdominal ultrasound can aid in the diagnosis of:
Liver disease
Biliary disease
Kidney disease
Pancreatitis
Inflammatory bowel disease
Bladder problems, including stones
Tumours and many other conditions
There are also many ancillary uses of an ultrasound that make great sense from a clinical perspective. This includes pre-op and routine wellness exams for senior animals, biopsy and fluid tapping procedures, urinary tract exams, and checking for blockages in the digestive tract. Ultrasound use in the veterinary practice is better medicine.
Purchasing an ultrasound system does not, however, guarantee success. Only by acquiring quality technology and scanning skills will an ultrasound examination makes sense. Commitment to this basic truth is what distinguishes a specialist with further training in ultrasound from others. At Roblin Animal Hospital, we are fortunate to have Dr. M. Kusa, who has over 15 years of experience in small companion animal practice and took more training in Diagnostic Medical Sonography to perform ultrasound exams at our hospital. Dr. Kusa had worked before as a Diagnostic Medical Sonographer at Health Sciences Centre, Winnipeg, Manitoba. He is also American Registered Diagnostic Medical Sonographer and Canadian Registered Generalist Sonographer.
We use modern veterinary ultrasound equipment for our ultrasound examinations and provide you with report.
Our hospital accepts referral for abdominal ultrasound. Please call us to make an appointment.